As you prepare to send your student to college, you're more than likely feeling the financial pinch—and for good reason. Expect to pay $9,410 annually, according to The College Board, for tuition and fees at a public four-year college. Whether your child is in diapers or in driver's ed, you can curb rising tuition prices. Remember, the sooner you begin saving, the better. Even modest savings can add up over time.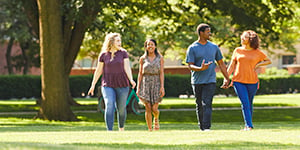 Consider a 529 Plan
A 529 plan is an indispensable tool to help pay for your child's or grandchild's education—offering a unique combination of benefits unmatched in the college savings world.
There are two types of 529 plans—college savings plans and prepaid tuition plans. Though each is governed under Section 529 of the Internal Revenue Code (hence the name "529" plans), college savings plans and prepaid tuition plans are very different college savings vehicles.
1. A College Savings Plan is a tax-advantaged college savings vehicle that lets you save money for college in an individual investment account. If your investment portfolio performs well, you reap the rewards—and vice versa.
With a college savings plan, you can:
- contribute at any time;
- use the funds at any college home or abroad (that's credited by the U.S. Department of Education);
- and make withdrawals at any time – no age requirements.
The average saver utilizing a 529 college savings plan has saved $20,975, according to the College Savings Plans Network—a record high for the savings tool.
2. A Prepaid Tuition Plan is a tax-advantaged college savings vehicle that lets you pay tuition expenses at participating colleges at today's prices for use in the future. You are guaranteed a minimum rate of return. Prepaid tuition plans can be run either by states or colleges. For state-run plans, you prepay tuition at one or more state colleges; for college-run plans, you prepay tuition at the participating college(s).
With a prepaid tuition plan, be aware:
- of select open enrollment periods;
- funds may typically be used only for undergraduate tuition at public colleges in your state;
- and tuition credits must generally be used by the time the beneficiary reaches age 30.
College planning is only one component of your financial picture. Prioritizing various financial goals—from college expenses to financial preservation and retirement is important.
Talk with the financial planning professionals at Busey Investment Services to determine the best plan for your unique financial situation.
Contact us today or call 1.800.67 | Busey.