As businesses grow and develop, business partnerships tend to evolve and change as well. Whether a misalignment of goals or varying life stages between partners—business partnerships come to an end for a wide variety of reasons. When the time comes to consider a partnership buyout, it can be an expensive, complex proposition, but an SBA 7(a) loan may be your answer to securing the funds you need to do so amicably and successfully.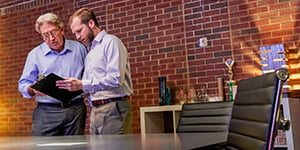 SBA 7(a) Loan Benefits
When it comes to conducting a successful partnership buyout, the 7(a) loan has the unique ability to meet the needs of both the remaining and exiting partners involved in the process. For example, the exiting partner can receive full payment for their equity ownership, allowing them to drop all involvement in the business. At the same time, the remaining partners in the transaction do not have to put down any equity if the business has a debt-to-net-worth ratio of 9:1 or less. If the ratio is larger, the borrower will have to put down 10% to qualify.
It's also important to note that acquisition loan terms will be at least 10 years but could be up to 25 years if commercial real estate is involved.
Rules and Regulations
When preparing to finance a partnership buyout, there are a variety of rules and regulations to keep in mind. Some important ones include:
Partial buyouts cannot be financed by SBA loans—the buyer is required to purchase 100% of the business.
The seller may not remain involved with the company as an owner, officer, director or employee after the buyout is complete.
If a transitional period is necessary after the sale, the seller may serve as a paid consultant for no longer than 12 months.
There are many additional rules and regulations to consider throughout this process—an experienced lender can help you identify, and work through those.
Preparing to Finance Your Buyout
Upon deciding that a 7(a) loan is the best financing option for your buyout, you must prepare to effectively secure SBA financing. To successfully do so, borrowers must prove that they are capable of running a business alone or are prepared to bring someone new on to assist. To prove sufficient capability, business owners should make sure their financials are in excellent shape and should have a solidified post-exit plan in place prior to applying for an SBA loan.
How Busey's SBA Lenders Can Help
Navigating a partnership buyout can be difficult, but when done successfully, the process can pave the way for new growth in your business. As your business grows, develops and changes, Busey's team of experienced SBA Lending Specialists are here to provide the resources and guidance to help you obtain the funds you need along the way. Contact our team of SBA Lending Specialists today.