'Tis the season for the holiday shopping surge! Unfortunately, as shopping increases, so do attempted financial scams and fraudulent activity. Whether using your credit card and hoping it goes unnoticed due to increased activity, or seeking to take advantage of your giving spirit, there are several ways in which fraudsters and scammers seek to capitalize on the generosity of unsuspecting shoppers.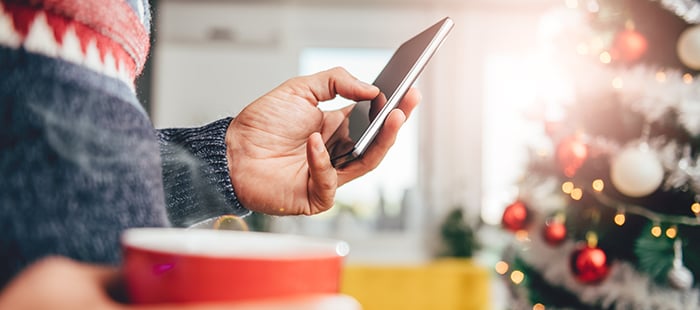 Busey promises to do everything we can to keep you safe while you shop for your loved ones—both in stores and online. Here are some reminders that will protect you this holiday season:
Activate account alerts. Before you shop, find out if you can set up alerts to monitor for suspicious activity on your account. Make sure you know who to contact if your account is compromised. It's a good idea to keep a list of phone numbers for your bank and credit card accounts separate from the cards in case they are stolen.


Be cautious of deals that seem too good to be true. Shoppers are often enticed with what appears to be an outstanding deal, only to be scammed into providing their personal information. If you feel uneasy about a deal, spend some time investigating it and asking your bank questions before you proceed.


Be aware of your surroundings. It's easy to get caught up in the hustle and bustle of the season, but make sure you always have physical possession of your bank and credit card information. Be cautious to whom you are providing financial information.


Beware of mystery shopper scams. Legitimate mystery shopper programs do exist, but they do not ask you to send money back to them via wire, prepaid cards or gift cards. You should never pay to be a mystery shopper. A legitimate mystery shopper program will ask you to make a purchase and evaluate your experience. You will then be reimbursed and can keep the product. Sometimes the shopper will receive a small payment as well.


Understand current fraud trends. Synthetic identity fraud is when fraudsters use a combination of real and fake personal information to create an identity and commit fraud. Business Email Compromise (BEC) scams are a type of cybercrime in which the scammer uses email to trick someone into sending money or divulging confidential company info. Check fraud includes any effort to obtain money illegally utilizing digital or paper checks. Payment app scams happen when someone uses a platform like Zelle or Venmo to steal funds, either with or without authorization from the victim. While this list is not comprehensive, it gives shoppers an idea of what kind of scams to be on the lookout for.
What are some of the best ways to avoid falling victim to scams and fraudulent activity?
Check your accounts often. Thanks to the power of technology, it's easy to check our account balances regularly. Notifying your financial institution promptly of any suspicious activity will help minimize loss and frustration. Checking your account balance may also lessen the chance of overdrawn funds.


Only use one card. If possible, limit all of your holiday spending to one single card. Data breaches have occurred in the past at major retailers and credit card companies. In the event that something similar occurs, using one card reduces your risk of being compromised.
If you suspect that you or someone you know may be a victim of a scam, contact local law enforcement or your bank for assistance. To further protect yourself against scams and identity theft, visit the Federal Trade Commission's website or visit the Fraud section of Busey's Money Matters blog for more information.